Welcome to La Palma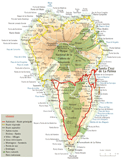 Home of incredible landscapes, imposing volcanoes, dense forests, unique beaches, and star scattered skies.
The island of La Palma (Canary Islands) offers an amazing variety of nature spectacles and local weather phenomena.
In this unique location we offer you 3 different, well kept accommodation on the east side of the island.
Take a look and enjoy...